The key has been a useful invention for over 4000 years. It's brilliant when you put it in the lock and turn, but it also has its clear disadvantages. Smart, electronic code locks offer simple everyday magic, and can be a nice entry for you who want to make your home smarter.
Admittedly, an electronic code lock costs a little more than a regular lock. But with the freedom and comfort it provides, most people think it's well worth the difference.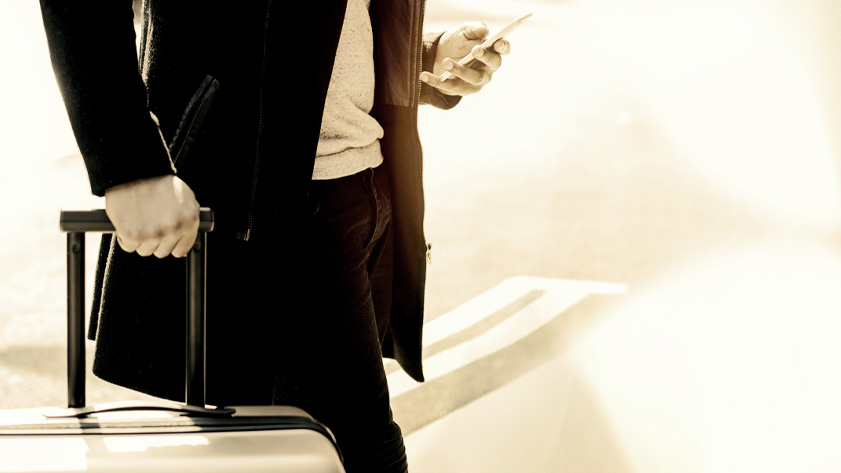 Goodbye, lost house key! Hello, smart electronic door lock!
The code locks come in several variants. With Heimgard's top model, you can lock and unlock the door with a code, RFID chip, fingerprint, Heimgard app, or with a key. It's simple and comfortable. Safe and flexible.
Open Sesame…
A smart electronic door lock is actually a little piece of everyday magic. You no longer need to put the key in the "safe place", under the flower pot next to the front door. You don't have to jog with a bunch of keys that gnaw on your thigh, or bump and hit like crazy in your pocket. And you no longer need to be afraid that the kids will lose the key. They open the front door when they come home from school with fingerprints, chips, or with a code. If someone in the family gets a blackout and forgets the code, you just open the door from your mobile. The code can also be easily changed, if necessary. And if you're under the duvet wondering if you remembered to lock the front door, you know there's nothing to wonder about anymore, because you've activated automatic locking when the door closes so you know the door is always locked. Comfortable, isn't it?
User codes and one-time codes
From the app, you can create and deactivate codes as it suits you and your family. You can also create one-time codes for use by the plumber, home delivery of goods inside the door, or the neighbor who is going to feed the cat. You choose yourself how many times the one-time code should be able to work before it is automatically deactivated. And in addition, you can specify duration per time. Maybe you want to set the one-time code to work for 5 minutes at a time so that the plumber has time to go several trips to get equipment from the car, or that the cat sitter actually gets in even if the wind blew the door closed on the first attempt.
Keyless start package
With Heimgard's smart home system, you can easily control the home's electrical aids from your phone, from the switch panel, and with your voice. Lights, heat, lock, alarm, security, and much more. In Heimgard's starter pack, Keyless Everyday, you get both an electronic door lock and Heimgard's smart hub – the brain of the system. Then it's easy to build on with other smart things, if you want. Heimgard's door locks are easy to use and fit in most doors. You have definitely lost your last key.
The code to a smarter home
Start with the Keyless Everyday starpackage. Its a simple and affordable way in to a smarter home.
Full freedom of choice. Uncompromising security.
If you didn't know it before, Heimgard is a Norwegian company that develops smart home solutions for Nordic homes. The technology is completely unique. Heimgard is compatible with many other brands and smart home products such as: IKEA, Philips Hue, Elko, Google Assistant, and Samsung SmartThings. You can freely choose the products you want, and control them all easily from the Heimgard app. At the same time, security is top-notch. All data is stored locally in your Heimgard Hub. Your own little, closed ecosystem where all data is completely private and completely theft-proof. Completely safe, yet completely open. As Heimgard believes smart homes should be.
Make your home as smart as you want
With the Heimgard app and Heimgard Hub – the brain of the system – you can make your home as smart as you want. The app is free, and is downloaded in the App Store or Google Play. The smart hub is included in Heimgard's smart starter packs, but can also be purchased separately.
If we take the Keyless Everyday package as a starting point, which contains a smart electronic door lock and the Heimgard Hub, the road is open. Maybe you have handed out one-time codes to your grocery store so that you get the goods delivered inside the door? With a camera in the hallway, you have full control that the goods are delivered as agreed. Motion sensors can, for example, control the light automatically in rooms such as the bathroom, toilet, laundry room, and in the garage. They can turn on the light with movement, and off with a lack of movement. Small, simple things that increase comfort. And suddenly your home has become a little smarter, and the electricity bill a little lower."
Want more inspiration?
Keyless access
Are you renting out your home this summer?
Short-term rental of homes or cabins is becoming increasingly popular. But as a host, it can be challenging to ensure that guests have a seamless experience while you maintain control over the property. This is where Heimgard comes in.
Keyless access
Skal du leie ut boligen i sommer?
Kortidsutleie av bolig eller hytte blir stadig mer populært. Men som vert kan det være utfordrende å sikre at gjestene har en problemfri opplevelse samtidig som du opprettholder kontroll over eiendommen. Det er her Heimgard kommer inn i bildet.