The easiest way to save energy is undoubtedly by lowering the indoor temperature. For every degree you lower the temperature, you reduce your heating costs by 5 percent. Lowering the indoor temperature to save energy may seem brilliant for those who see their money disappear from their account, but it is rarely popular among the rest of the family. And honestly, a cool indoor climate is not ideal in the long run. That's where Heimgard and smart energy management, or modern energy saving if you will, come into play.
Get Started with Heimgard Energy Saving
Only 49/month. Try the service for free until October 1st.
Full flexibility with solutions tailored to your needs.
Heimgard offers solutions for homes and vacation properties. You can choose between pure smart home solutions that connect to your existing home network. If you don't have internet in your home or cottage, take a look at Heimgard Hub 4G where you get both a smart home system and one of the market's most powerful mobile broadband modems in one solution.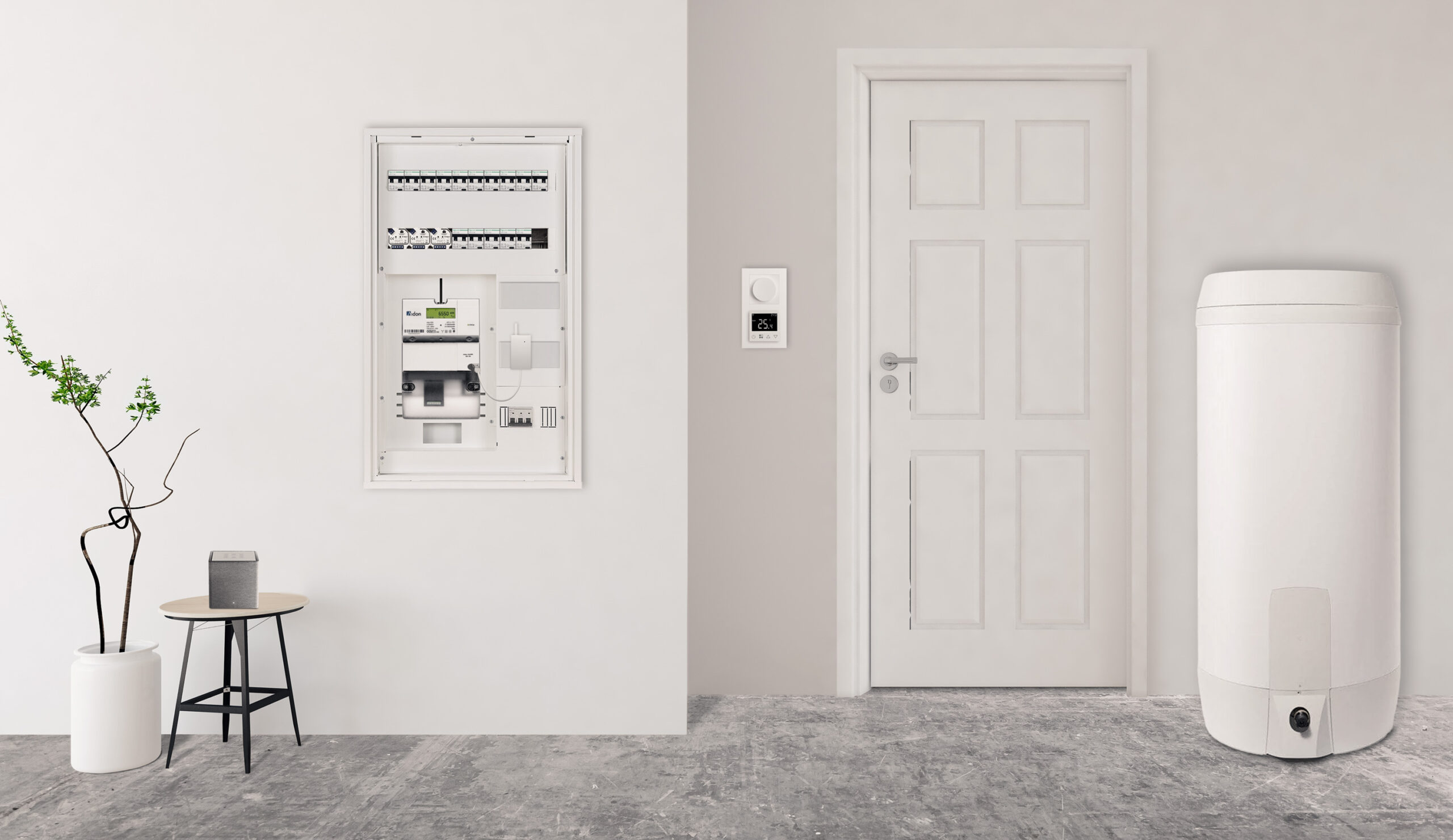 The common feature among all solutions is that you can control everything from lighting, heating, indoor climate, locks, alarms, security, and have full control over energy consumption in your home and vacation property directly from the Heimgard smart home app on your mobile phone.

Start with a few articles, fall in love, and add more when you want.
Popular energy management devices.
Read detailed information about your real-time power consumption and control your household products directly from your phone.
Catch the power thieves before they empty your piggy bank!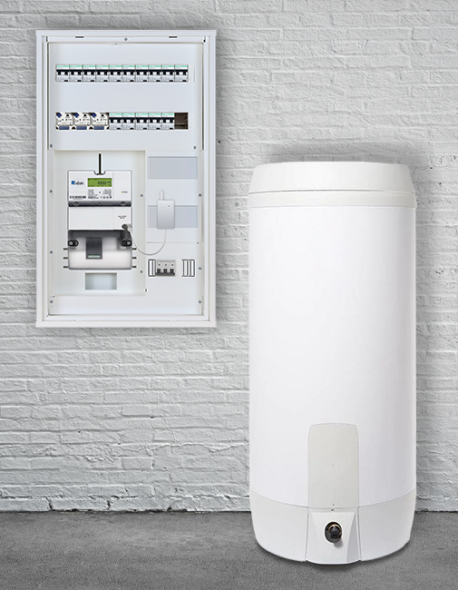 Water heater
Heating is often the biggest energy consumer in a household, and particularly the hot water heater is often the culprit.

By connecting the water heater to a 16A switch actuator, you can easily program it in the Heimgard app to heat during the night or other times when electricity is cheaper. You also have full visibility of the energy consumption in real-time and historically. Consult your electrician for more information.
Wall-mounted panel heaters
Heating is the biggest power thief in Norwegian homes. If you have panel heaters, you can have a 16A switch actuator installed in the wall box behind the socket or in the junction box where the heater is connected, and once again use the Heimgard app to control when they should be turned on or off.

If you add a temperature sensor, you can set up rules in the app based on the desired room temperature. In living areas, you can lower the temperature during the day while the family is at work and school, but still ensure it is comfortable when you come home for dinner. It may be the opposite for bedrooms.

If you have a vacation property, such a setup can be particularly advantageous. You can ensure that the property does not consume unnecessary electricity but is still comfortably heated by the time you arrive or heated enough to prevent pipes from bursting when you're not there.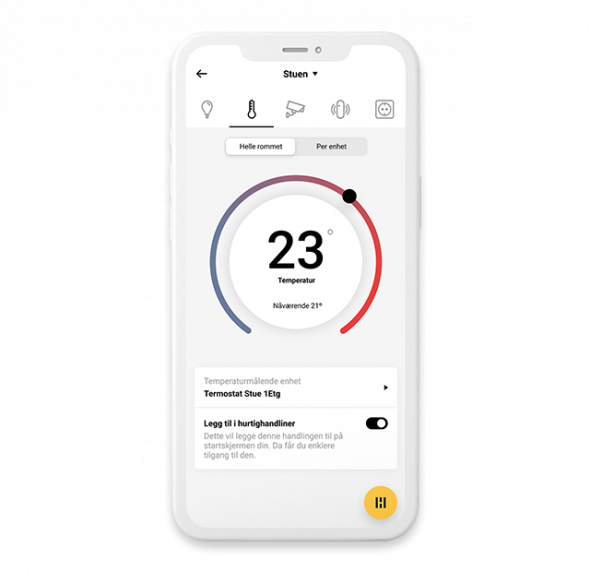 Freestanding heaters
If you have a convector or oil heater, these can be connected to a smart plug that is plugged into your wall socket.

In combination with a tempere sensor in the room, these can also be automated and contoled from the Heimgard app.

When using smart plugs, it is important to consider that they are rated for the load the heater draws as larger heaters draw a significant amount of power over longer periods.

Please note that smart plugs are not covered by Enova's subsidy scheme but can be easily added as part of your smart home solution.
Popular fixed-installation devices
Contact your local electrician to have control units installed for automating your lighting, underfloor heating, or hot water heater.
Underfloor heating systems
Even underfloor heating cables can be controlled from your phone and be part of your smart energy system by using a smart thermostat.

As heated floors don't cool down immediately, it's smart to be able to adjust the heating schedule to times when electricity prices are lower.

You can also set up schedules for temperature adjustments during the day and night, tailored to your weekday and weekend usage patterns.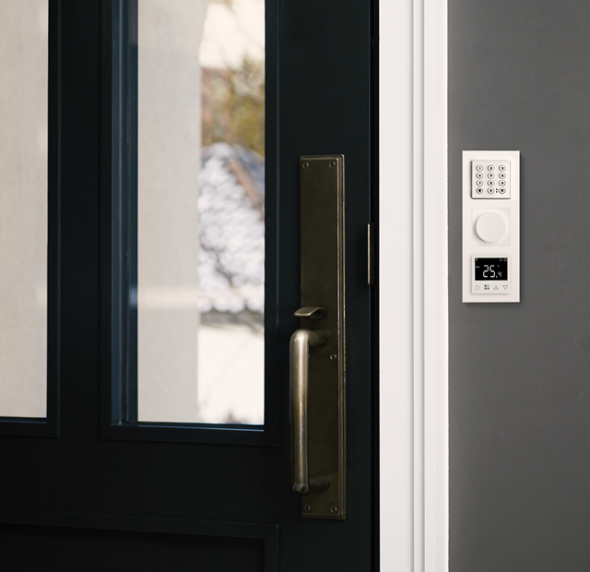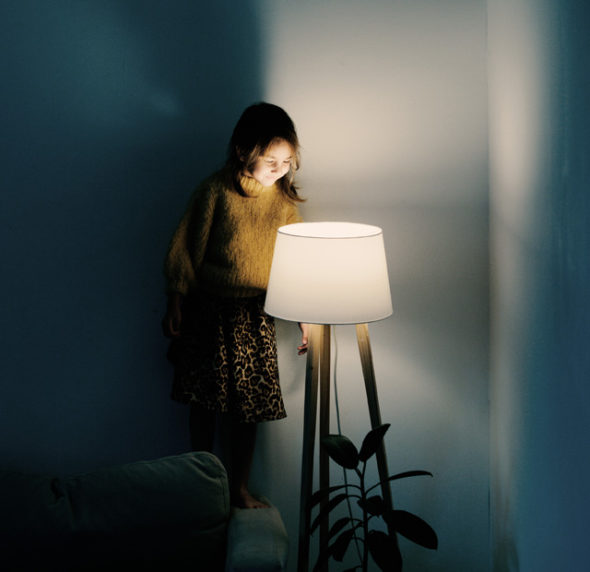 Smart lighting
Autumn and winter are the seasons for cozy indoor living. By switching from traditional incandescent bulbs to LED lighting, you can reduce power consumption by up to 85% per light source.

Smart bulbs are based on LED technology, they have a long lifespan, and are highly efficient. With smart LED bulbs, you can also adjust the color, color temperature, and brightness from your phone.

By adding a few motion sensors you can ensure that lights automatically turn on and off when you enter or leave a room. This can be practical in rooms such as laundry rooms, storage rooms, bathrooms, hallways, garages, or wardrobes.

Other Smart Energy Saving Tips
Avoid air leaks around doors, windows, and baseboards.
Leaks in frames, cracks, and along edges can often be easily repaired with acrylic or silicone. Weatherstrips for doors and windows can be purchased at your local hardware store and often come with pre-attached double-sided tape.

First and foremost, it's a good idea to close doors to rooms that are not in use. Even small rooms with heaters can consume constant energy if they're meant to heat the entire home 24/7. Also, remember to adjust the door closers so they seal properly when closed.

Lower the temperature when you leave your vacation property or home, and use preheating for specific rooms or the entire house with a tap in the Heimgard app. Never turn off the heating completely as it could lead to frozen pipes.

Do you usually turn off your refrigerator when it's empty and you leave? By connecting it to a smart plug, you can turn it on so that you can load groceries into a cold fridge when you arrive or return home.

Note that all homes need proper ventilation. It's important to ensure that you don't seal off all ventilation openings, as this can lead to moisture and condensation, which over time can cause mold and rot damage in the home.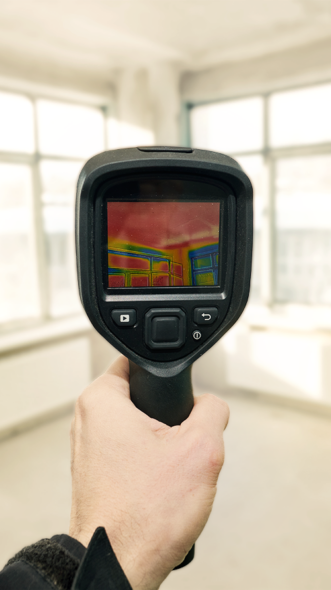 Complete flexibility – Smart Home from Heimgard.
Explore other possibilities with a smart home system from Heimgard.