Smart control of lighting and indoor climate will delight both mind and wallet. In addition, it is an easy entrance to a smarter home. All you need is a Heimgard Hub, some smart light bulbs, and a smart plug or two. You download the Heimgard app – which controls them all – for free.
Smart lighting is more than turning the light on and off with an app. Lights can be dimmed and controlled without dimmers, and some light bulbs let you choose between a thousand different colors and color tones. This opens up for both magical and practical things.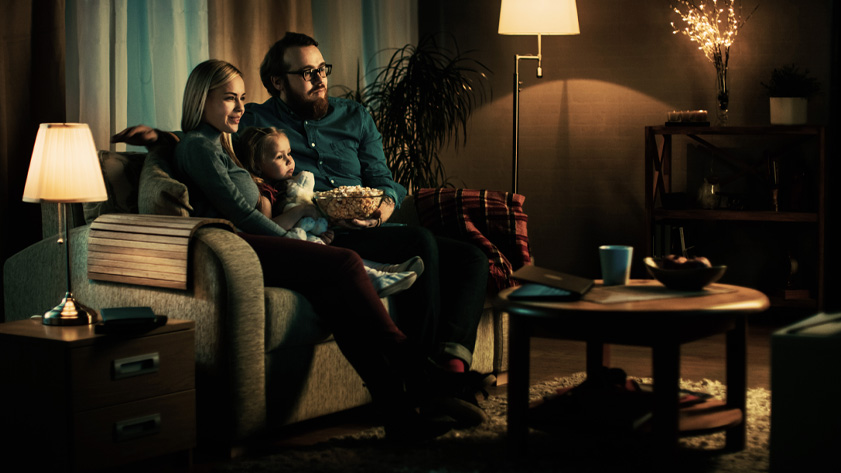 Say it with the light
You may not think about it, but the need for light changes not only during the day, but also based on situations and use. Warm, dimmed, and comfortable light in the evening does something with the mood. Sharper light during the day for home office and homework is good for the eyes and helps with concentration. And if the house is empty, you can pretend there is someone at home. Like Kevin in "Home Alone", just without wearing yourself out.
The Heimgard app can control them all
One of the advantages of Heimgard is that the system is compatible with many other smart products and services from a number of manufacturers. In the Heimgard app, you can easily add and control plugs, sensors, light bulbs, and dimmers from both Heimgard, IKEA, Philips Hue, Elko, Samsung SmartThings, and LiFx – to name a few.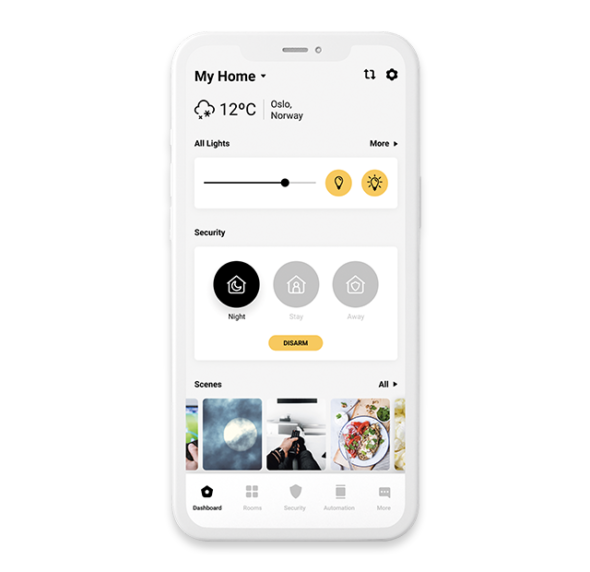 Smart plugs are smarter than many think
With smart plugs, you can control light and heat. If you connect a smart plug and a temperature and humidity sensor to the Heimgard app, you can control temperature and indoor climate from your mobile. Adjust the temperature. Easily set up rules for dehumidifiers and heaters. Like the heaters turn off automatically when you air. That the thermostat on the heaters in the living room on weekdays goes down when you go to bed at night, and up an hour before you come home from work during the day. Create atmosphere. Save money. Control light and heat in house and cottage via the Heimgard app – whether you are home or away.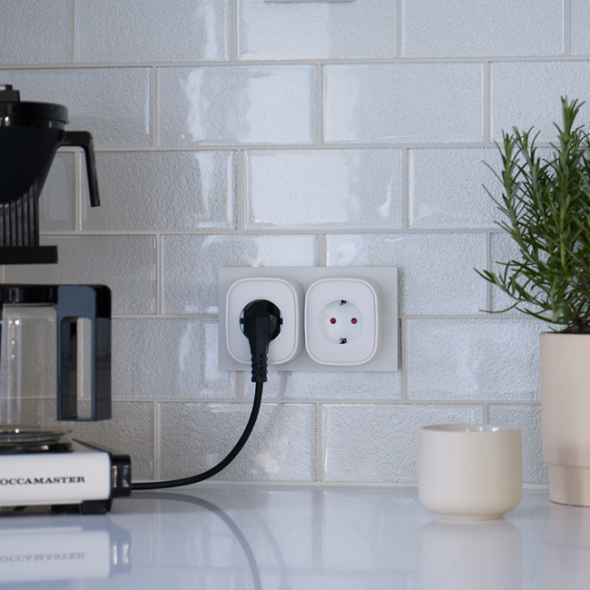 Automatic light control
Motion sensors, which are used in the alarm and security system, can also easily be used to control the light in rooms that are not always in use. Such as the bathroom, toilet, laundry room, and in the garage. They can turn on the light with movement, and off with a lack of movement. Good for both the environment and the wallet.
Hey Google, turn on the light!
Sometimes you don't have your phone in your pocket, or maybe your hands are fully occupied with shopping bags? Then it's nice to be able to control the light with your voice. With Heimgard, this is easy peasy. Connect your Google home unit to the Heimgard app and shout out: "Hey Google, turn on the light in the hallway!"
Easy to expand
Even though you can control most things in a smart home from the Heimgard app, it is also possible to control things in other ways. With wireless switch panels, which you stick on the wall, you can control everything from light and heat, to turning on shell protection on the alarm with the tap of a button. Set up a switch panel on the wall by the bedside. Use one button for shell protection on the alarm, and one to set the heat to night reduction. If you connect the coffee maker to a smart plug, the last button can control the smart plug. Prepare the coffee maker in the evening, press the button on the panel when you get up, and the morning coffee is ready by the time you're done in the bathroom. Small, simple things that increase comfort and make everyday life a little easier.
Full freedom of choice. Uncompromising security.
If you didn't know it before, Heimgard is a Norwegian company that develops smart home solutions for Nordic homes. The technology is completely unique. Heimgard is compatible with many other brands and smart home products such as: IKEA, Philips Hue, Elko, Google Assistant, and Samsung SmartThings. You can freely choose the products you want, and control them all easily from the Heimgard app. At the same time, security is top-notch. All data is stored locally in your Heimgard Hub. Your own little, closed ecosystem where all data is completely private and completely theft-proof. Completely safe, yet completely open. As Heimgard believes smart homes should be.
Want more inspiration?
Keyless access
Are you renting out your home this summer?
Short-term rental of homes or cabins is becoming increasingly popular. But as a host, it can be challenging to ensure that guests have a seamless experience while you maintain control over the property. This is where Heimgard comes in.
Keyless access
Skal du leie ut boligen i sommer?
Kortidsutleie av bolig eller hytte blir stadig mer populært. Men som vert kan det være utfordrende å sikre at gjestene har en problemfri opplevelse samtidig som du opprettholder kontroll over eiendommen. Det er her Heimgard kommer inn i bildet.