If you're going to make your home smart, the Heimgard Hub is the brain of the smart home system. The link between the Heimgard app and all the smart things. Lights, smart plugs, thermostats, sensors, and much more. With a Heimgard Hub in the house, you can make your home as smart as you want. Start small, fall in love, and expand when you want.
But what is a smart home really? Smart home technology enables you to easily control the home's electrical aids from your mobile, from the switch panel, and with your voice. Lights, heat, door lock, alarm, security, and much more. A smart home can reduce your electricity consumption, make everyday life easier, and create safety and comfort.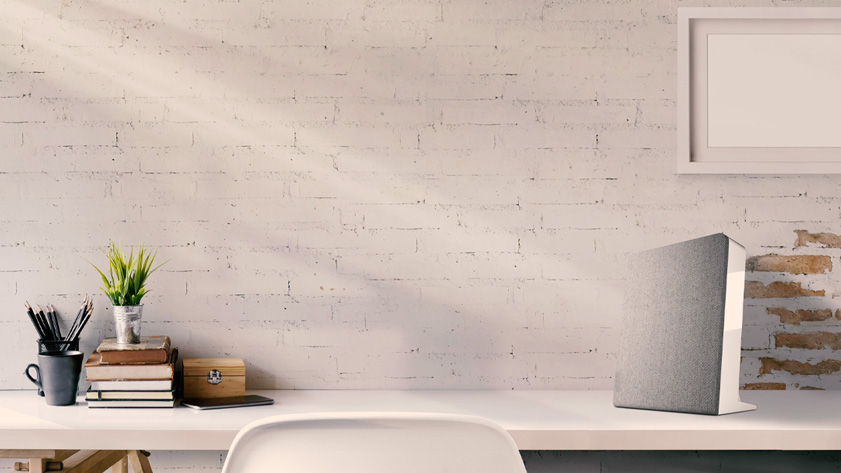 Heimgard is compatible with others
One of the biggest advantages of Heimgard is that the system is compatible with many other brands and smart home products. Thus, you are not locked to one manufacturer, but can freely choose exactly the smart home products you want.
Lord of the things
The sensors, detectors, alarms, cameras, smart plugs, electronic door locks, gadgets, and gizmos. Whether it's Heimgard's own smart products, or from IKEA, Philips Hue, Elko, Google Assistant, or Samsung SmartThings, to name a few. Only one app is needed to control them all – the Heimgard app.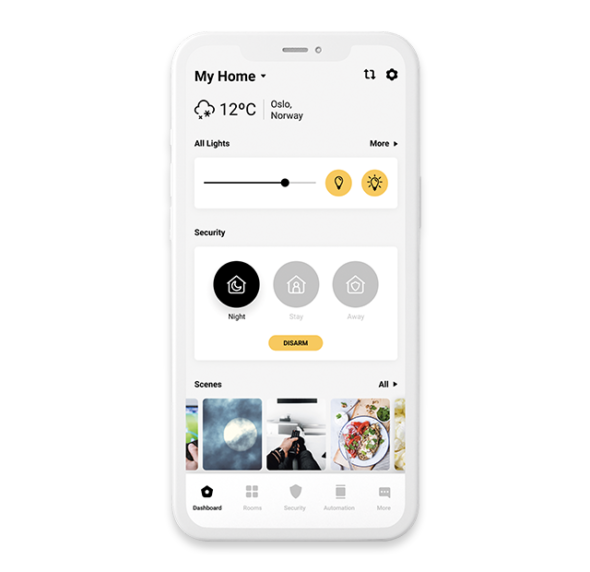 Heimgard Hub for house and cottage
Take the shortcut to our different smart hubs. Choose the one that suits you best.
Easier than you think
Some people think that only new homes can become smart homes. Others think it is complicated to make the home smart. That it requires an installer and large investments. The truth is that you can make all homes smarter, and that it is much easier than you might think. With Heimgard, everything is so intuitively simple that you can install most of it yourself without help. The user guide that comes with the smart products is good and educational. You download the Heimgard app for free. It is very easy to use and guides you safely through step by step. It is almost impossible to go wrong.
Start small
It can be smart to start with something simple. Something that gives you the feeling of a smart home and comfort. That makes everyday life a little easier without the big investment. Smart, electronic door locks offer simple everyday magic and can be a nice entry to make your home smarter.
Open Sesame…
With a smart electronic code lock, you no longer need to put the key in the "safe place" under the flower pot next to the front door. You can easily let the plumber in with a "tap" in the app. You don't have to jog with a bunch of keys that gnaw on your thigh, or bump and hit like crazy in your pocket. And you no longer need to be afraid that the kids will lose the key. They open the front door when they come home from school with fingerprints, chips, or with a code. If someone in the family gets a blackout and forgets the code, you just open the door from your mobile. The code can also be easily changed, if necessary. And if you're under the duvet wondering if you remembered to lock the front door, you know there's nothing to wonder about anymore, because you've activated automatic locking when the door closes so you know the door is always locked. Or you can check in the app. Comfortable, right?
Keyfree starterpack
In Heimgard's starter pack, Keyless Everyday, you get both an electronic code lock and Heimgard's smart hub – the brain of the system. This makes it easy to later add other smart things, if you wish. Heimgard's code locks are easy to use and install.
Hey Google, turn on the light!
Sometimes you don't have your phone in your pocket, or maybe your hands are fully occupied with shopping bags? Then it's nice to be able to control the light with your voice. With Heimgard, this is easy peasy. Connect your Google home unit to the Heimgard app and shout out: "Hey Google, turn on the light in the hallway!"
Easy to expand
Even though you can control most things in a smart home from the Heimgard app, it is also possible to control things in other ways. With wireless switch panels, which you stick on the wall, you can control everything from light and heat, to turning on shell protection on the alarm with the tap of a button. Set up a switch panel on the wall by the bedside. Use one button for shell protection on the alarm, and one to set the heat to night reduction. If you connect the coffee maker to a smart plug, the last button can control the smart plug. Prepare the coffee maker in the evening, press the button on the panel when you get up, and the morning coffee is ready by the time you're done in the bathroom. Small, simple things that increase comfort and make everyday life a little easier.
Full freedom of choice. Uncompromising security.
If you didn't know it before, Heimgard is a Norwegian company that develops smart home solutions for Nordic homes. The technology is completely unique. Heimgard is compatible with many other brands and smart home products such as: IKEA, Philips Hue, Elko, Google Assistant, and Samsung SmartThings. You can freely choose the products you want, and control them all easily from the Heimgard app. At the same time, security is top-notch. All data is stored locally in your Heimgard Hub. Your own little, closed ecosystem where all data is completely private and completely theft-proof. Completely safe, yet completely open. As Heimgard believes smart homes should be.
Want more inspiration?